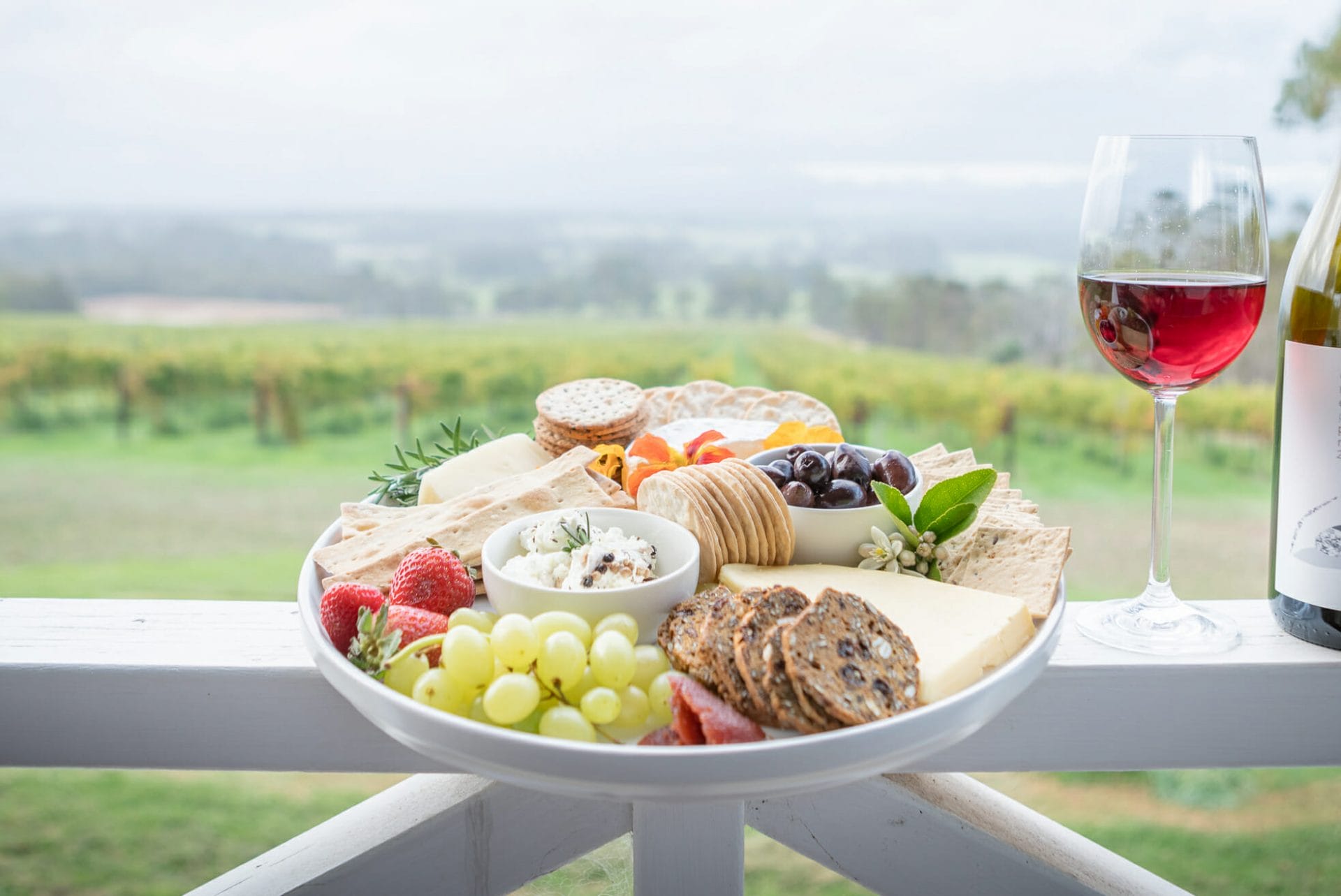 Castle Rock Granite Skywalk, Porongurup
Find yourself tasting the finest food and wines
Porongurup's wonderful wines and awesome accommodation is complimented by a wide range of eating experiences, including tea rooms, sunny scenic vineyard vistas and a Thai café.
IRONWOOD Estate Wines & Café
Wine and dine with a view
A la carte lunches, espresso coffee, desserts, and, of course, fine wine! The alfresco patio area provides a panoramic view to the Stirling Range.
The cellar and café are open from 11 am to 5 pm on Wednesday – Sunday for wine tastings & sales, lunches, coffees/teas and cakes.
Avocados, Olives & seasonal organic vegetables
Jilba, located at Millinup Road, is a small family operation producing avocados, table olives,  seasonal organic vegetables and Angus beef cattle.
Hass & Lamb Hass Avocados are available for purchase in tray lots from November to March. Why not buy a tray and share with family and friends.
Processed 'Djilba' Kalamata & Manzanillo table olives, pickled in brine and red wine vinegar, can be purchased any time of the year and are suitable for platters, salads, pizzas & tapenades.
April to July is olive harvest season.  When there is a seasonal surplus of olives, you are welcome to come and have fun picking for yourself.  Picking bags are provided, along with advice on pickling methods.
Appointment is required for intending purchases and picking.
Organic Farmers Market on 1st & 3rd Sunday of the month, 9am-1pm at 338 Millinup Road, South Porongurup.
Karribank and the Karri On Bar
Sample local craft beers, wine and bar food
The Karri On Bar is a part of the Historic Karribank precinct on the doorstep of the Porongurup.
A relaxed family friendly atmosphere with local beers, cider, wine and our delicious bar food including woodfired pizza, sliders and fish and chips. Gardens to wander, lawns to sit on in the sun and a nature playground for the kids.
Fri & Sat 5pm-close, Sun 1pm-close. 
Please phone ahead to check if opening hours have changed.
Great Southern Distilling Company, a family owned craft distillery, was founded in 2004 and is the very first distillery to legally make Single Malt Whisky in Western Australia.
Today the flagship brand Limeburners is an internationally-acclaimed Australian whisky, and has become synonymous with premium quality. In 2017 and again in 2020 Limeburners was honoured by the American Distilling Institute as the World's Best International Craft Whisky. A bottle of Limeburners is also on display at the WA Museum in Perth, as an example of a WA brand that is recognised as one of the best in the world.
From three distilleries in iconic locations in Albany, Porongurup and Margaret River, Great Southern Distilling Co and sister distillery Margaret River Distilling Co distil spirits using the very best Western Australian agricultural produce.
The Limeburners distillery is located on the edge of Princess Royal Harbour in Albany and is open to the public for craft spirit tastings of Limeburners Whisky as well as sister spirits Tiger Snake Whiskey, Dugite Whiskey and Giniversity Gin. Casual lunches, distillery tours and gin blending classes are also available.
Please note that the Porongurup distillery is not open to the public.
Thai Café, Studio Accommodation and Bamboo & Cactus Nursery
Maleeya cooks her authentic Thai dishes with Asian herbs fresh from our organic vegetable garden with a lot of organic and free range produce.
The Café has been featured 6 years in a row in the Australian Gourmet Traveller Guide.  An extensive Bamboo & Cactus Nursery is situated next to the Café.  Our guests have the possibility of staying in our unique Studio, which is 80 metres away in a secluded area with panoramic views of the National Park and of our 135 acres organic farm with Highland Cattle.
Open: Fri 5:30-8pm, Sat 12pm-1:30pm & 5:30-8pm, Sun 12pm-1:30pm.
The Porongurup Village Inn, Shop & Tearooms
Good ol' home fashion cooking in the heart of the Porongurups
The Porongurup Inn is an ideal place to stop for lunch during your travels around the Porongurup Range. Famous for their Devonshire Tea with home made scones with lashings of cream and Scott's famous Beef & Burgundy Pie with salad, we recommend you do your walking before lunch!
Then there's Di's home made desserts, with ingredients straight from their organic vegie garden. The Mulberry Sundae will melt in your mouth and tantalise your taste buds!
The sticky date pudding will have you booking a room so you can walk it all off later. Group bookings by arrangement please.
Open 7 days, 8am-5pm.
Buy locally grown Avocados
Our 55 tree Avocado orchard offers locals and visitors alike the chance to buy locally grown produce.  Fuerte, Hass and Reed varieties are grown and handpicked by our family.  With creamy, rich or nutty flavours, each variety is slightly different. 
The harvesting season is from mid-November through to March.  Please phone to order.
Small batch, locally hand crafted spirits
Woodlands Distillery was created out of a shared love for whiskey and a passion for promoting the local region. This 'dream' has become a reality and is now a unique space where high quality, small batch spirits are produced, while also applying sustainable principles to the distilling process. From Gin, Vodka, Brandy, Liqueurs and the aging Whiskey, these spirits are crafted at the base of the Porongurup Range. You couldn't find a better, more fitting space to nurture and develop Australian spirits.
Open: Fri-Tue, 11am-4pm.
Entry via Woodlands Road