Porongurup Festival 2020 Highlights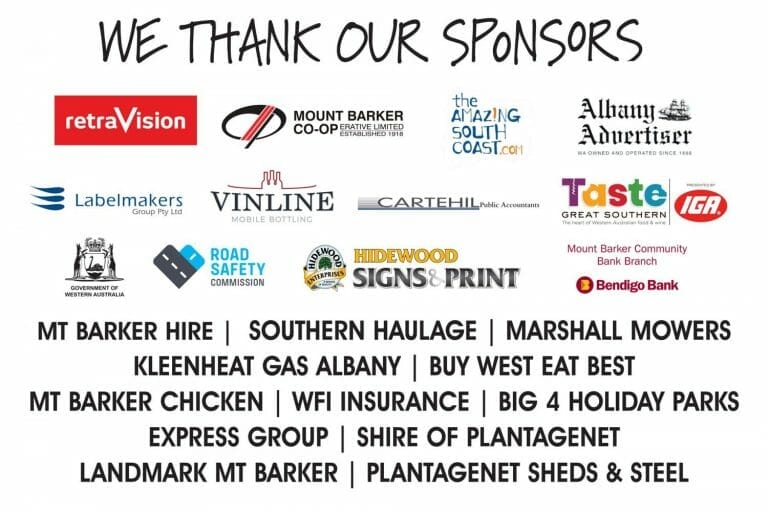 At 10:30am on Sunday 1st March 2020 the bell was rung to officially open the 32nd Porongurup Festival. Ironically, 12 hours prior to that saw the first big rainfall in the region for a while, and in amongst this much needed downpour, Karridale was dripping wet! Small streams leached their way through winery tents and both the Chef and Masterclass Tents were rather squelchy underfoot.
But nothing can dampen the resilient Porongurup spirit and both volunteers and service providers alike soldiered on through the wintery morning to offer a fantastic day of wine, produce, grape stomping and family entertainment to the visitors from far and wide.
Festival goers "flooded" through the gates to reserve their best hay bale and the atmosphere was alive. Featured Porongurup Wineries included Castle Rock Estate, Duke's Vineyard, IRONWOOD Estate Wines, Jingalla Wines, Mount Trio Vineyard, Montefalcon Vineyard, Shepherd's Hut Wines and Zarephath Wines.  Our sell out Riesling and Pinot Noir Masterclasses, with well respected local Wine Maker Rob Diletti of Castle Rock Estate, showcased some of their beautiful vintages. This year also welcomed Cameron Syme, Founder and Master Distiller from the Great Southern Distilling Company, to the Masterclass Tent and whisky lovers enjoyed their selection of locally made sour mashes..  
In the Chef's Tent, Geoff Richardson, from The Market Grill Albany, worked alongside guest presenters from Mt Barker Chicken, Porongurup Pure, Pomegranate Hill and Jilba Olives. Our younger guests demonstrated their artistic skills in the Cupcake Decorating Competition, which they then quickly consumed before burning off their sugar rush with Jamie the Clown or on the Bouncy Castle.
To accompany the delectable food on offer by the varied selection of local food trucks and vendors, festival goers enjoyed the great entertainment provided by Albany musicians Keane and Honeybone, and The Skanksters. Refreshing locally brewed beer was served by Porongurup's favourite Karri-on-Bar.  Feet got dirty in the annual Grape Stomp and fun was had by all with the lawn games. Alongside the festival stage was a display of beautiful local arts, crafts and pottery, much of which was sold throughout the day.
Many thanks to our sponsors and supporters, vendors, wineries, volunteers, organisers and most importantly, the guests who make the Festival successful each and every year. 
Our Porongurup Festival is almost entirely organised and run by volunteers from around the Shire of Plantagenet and City of Albany. From event organising, to festival operations, the strength of our team lies within a shared love of the Porongurups. Would you like to get involved? Please visit our Festival Facebook and Instagram Pages to register your interest in the 2021 Festival.