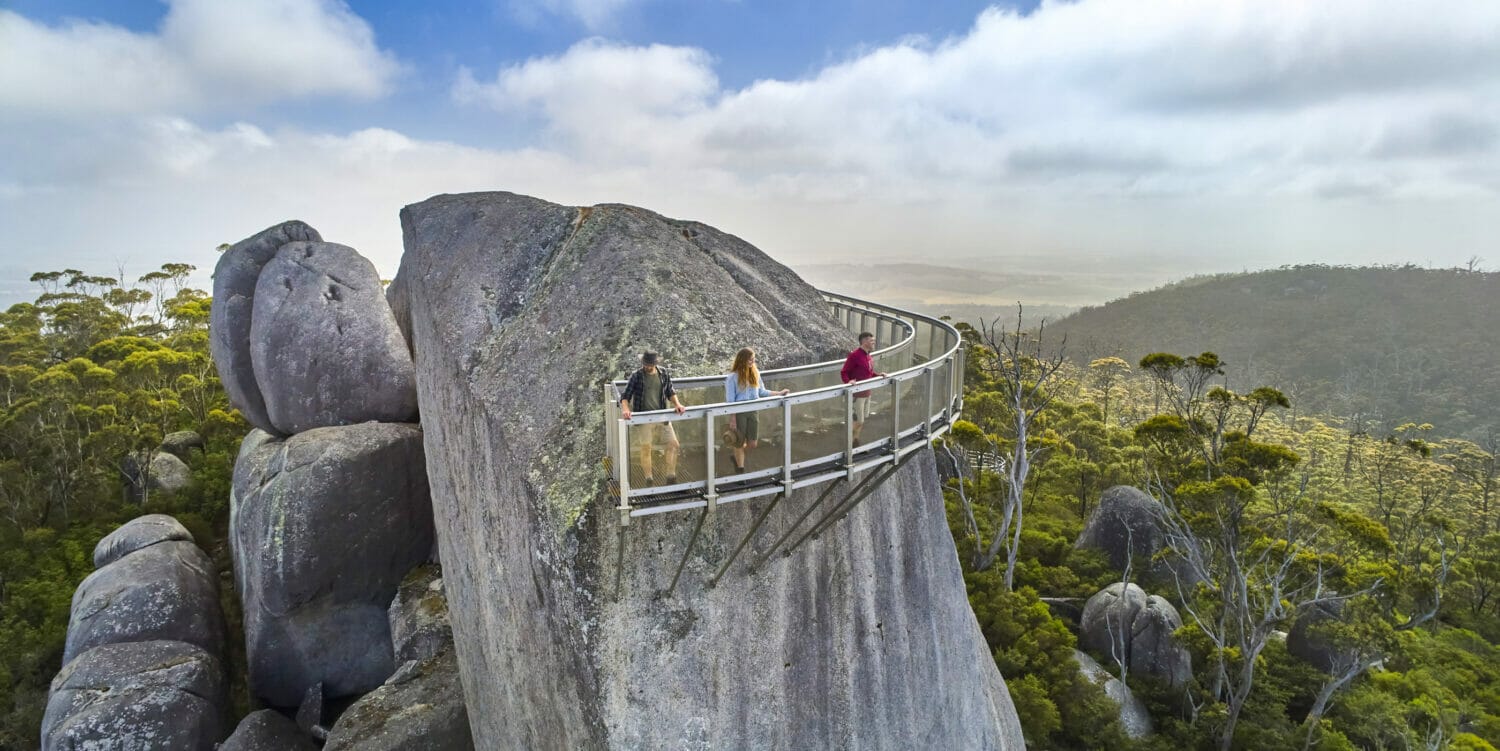 Castle Rock Granite Skywalk, Porongurup
Find yourself exploring new places
Those visiting the Porongurup locality are spoilt by rewarding and memorable attractions.
Castle Rock, Balancing Rock and Granite Skywalk
Take in spectacular views from the top of Castle Rock. Your effort will be rewarded!
The 4.7 km (return) Castle Rock Trail in Porongurup NP starts at the Castle Rock picnic area and climbs through jarrah, marri and karri forest, past the fascinating Balancing Rock to the base of Castle Rock and the lower lookout.
A further steep and challenging climb, scrambling over rocks and climbing a 6m ladder brings you to the Granite Skywalk; an amazing steel structure that winds its way around the massive granite dome, providing panoramic vies of the surrounding countryside.
Hillside Bamboo Nursery, Australian Tree Arboretum & Highland Cattle
Thai Café, Studio Accommodation and Bamboo & Cactus Nursery
Organic nursery with Bamboo Garden, also specializing in palms, exotic plants and cacti.
Our collection features many species of bamboo. We sell bamboo for hedges, edible shoots, ornamental and rare bamboo for collectors.  We also have Galangal, Turmeric, Thai Ginger, Cardamom, Curry leaf tree, Kaffir Lime and other edible Asian plants.  Large collection of Cacti and Succulents.
Australian tree arboretum on 2 acres (more than 50 species) & Highland cattle.
An annual event in Porongurup
Friends of the Porongurup Range invite artists of all ages to enter the exhibition/competition held in the open parkland at Karribank. Great prizes to win in both Open and Youth competitions. Attractive venue for visitors to view art, have lunch or a picnic.
Contact Judy on 0428 282 016 or email judykelly@westnet.com.au
An Easter event in the Porongurup Hall
The Bazaar will once again showcase local creative talent in a unique and colourful display of art and craft, all of which will be for sale.
Artists and visitors have enjoyed the ambience of the Bazaar in the past. The Hall Bazaar is an anticipated event where one may find a special locally made gift or catch up with friends.
Enjoy freshly made lunches, snacks, cakes, tea and coffee.
Contact Lorna: gahnia17@ipstarmail.com.au
Granite Skywalk at Castle Rock, Porongurup